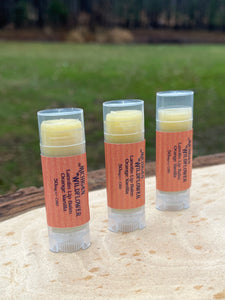 Vanilla orange flavored lip balm infused with CBD.  Great texture, and very moisturizing. Lanilon is excellent for adding a protect barrier and sealing in moisture. 50mg CBD. 
Ingredients:
Local Beeswax, Coconut oil*, Shea Butter*, Almond Oil*, Lanilon, Essential Oil*, Flavoring*, Full Spectrum Hemp Extract** & LOVE 
*Certified Organic  **Organic and sustainably grown.